---
The equipment we work on, as we know, is of great importance for our work and visualization, it is largely responsible for
the final path of our work, that is rendering. In this article I would like to introduce you to the machine on which we do most
of our visualizations, it's not a speed demon, but it can easily do visualizations of such quality as you can see on our website,
years of learning and optimization in Vray gave a lot of experience 😀 Currently working on the Corona Render experience
that allows us to perform photorealistic visualizations at a small expenditure of money on equipment and time spent on rendering.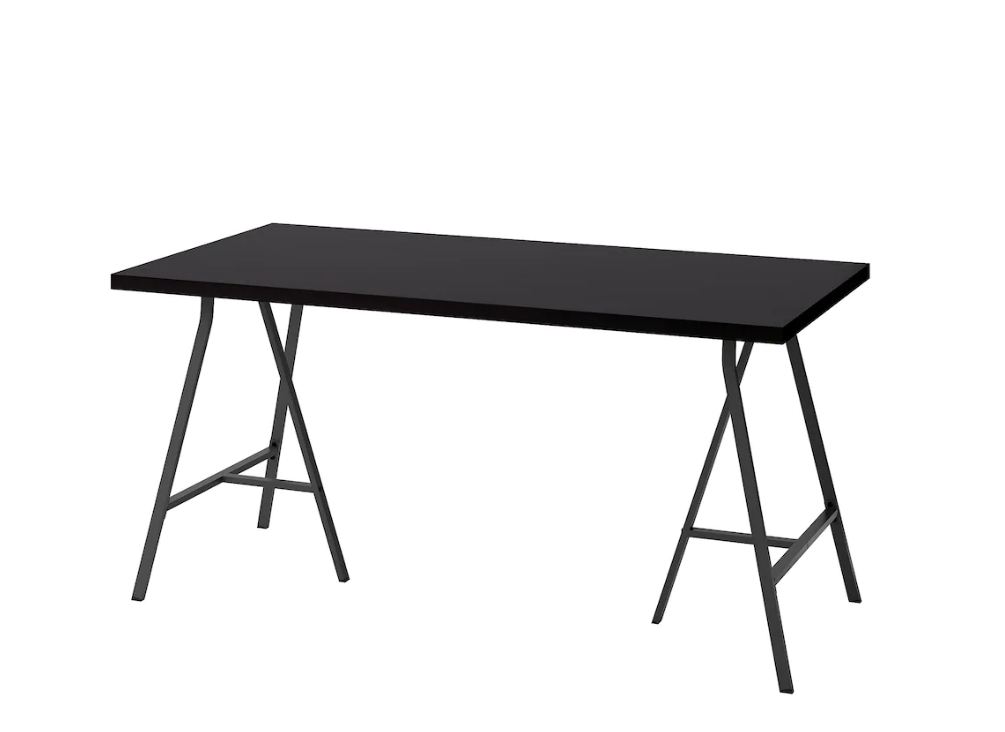 Photo.Ikea
Let's start maybe with a typical workstation we have in our company, the desks are ordinary tops from Ikea, they don't cost much,
about $20. For about a year we worked on them supported by a special frame LIERBERG, but the maximum height of this frame
was too low to work long hours comfortably. After a year of torment, we replaced them with electric legs, which we also bought
in the Ikea shop. I want to mention that this is not an advertisement for this shop, it has good prices to quality, so we often order
something there.
Photo.Ikea
Coming back to the topic of the desk, I just want to give you some information that helped us to change our attitude and convince
ourselves to this invention!
– Spinal degeneration
The sitting position has a devastating effect on the load on the spine. Studies show that, in relation to the standing position, it puts
almost twice as much strain on the third lumbar disc. This often leads to a number of unpleasant complications such as degenerative
spine diseases or herniated discs.
– Sedentary lifestyle is statistically the fourth cause of death.
The chair is a killer, and the figures prove it. It has been confirmed that an hour of sitting takes about twenty-two minutes off our lives.
So let us make a calculation. If we spend eight hours a day, five days a week for twelve months sitting, we lose 704 hours of life a year,
which is more than 29 days. It also increases insulin resistance, which significantly increases the likelihood of developing type two
diabetes. Sedentary lifestyles also impair the part of the brain responsible for memory and increase the risk of cancer.
– Excessive sitting changes the personality
Sedentary lifestyles have been shown to impair four out of five personality factors: extraversion, openness to experience,
agreeableness and conscientiousness.
https://trebelwellness.com/deskbound-series-episode-1.html
We have been using these desks for a year now and I must say that the effects are amazing, our spine seems to have recovered and
we no longer feel the 'tired back' effect. This is a great combination, which allows us to maintain the correct posture and, in the long
run, protects us from degeneration and illnesses.
Controlling the desk is very easy and allows it to be fully raised in 10 seconds or so, it also has a locking system should it encounter an
obstacle. The cost of such a rack is about $400 but really – it's worth it!
OK, we've got the desks behind us, now let's move on to the seating, when I started my visualisation adventure I rented a small room
which had a wooden stool in it. After six months of sitting on it my back started to hurt, I go to the gym regularly but even that didn't
help, Sitting, especially for long periods, is the most unfavourable position for the human body. The spine, neck and joints, especially
the knees, suffer from it. Occupational hygiene is a must in order to stay healthy. However, even getting up from your desk at least once
an hour will not help if you sit in the wrong chair. The ideal chair should be ergonomic, with adjustable seat height, armrests and
backrest tilt. It should be made of breathable materials that allow the skin to breathe. It is important to know, however, that there is
no one ideal type of chair to meet the needs of all those who work in a sitting position.I had to act. Poland is a country which has a
very well-developed office equipment industry, you can easily find professional office
chairs for a reasonable price. My choice fell on an armchair Profim Lightup250
We have had it in our form for 3 years now and it is sensational, it has an adjustable seat, adjustment and lumbar support, it holds the
body upright very well, the cost of such a chair is about $420.
The equipment that helps us stay healthy is now behind us, so let's move on to the Workstation we have. The whole thing is housed
in a Phanteks Ethoo Pro chassis, in our opinion a very good chassis at a reasonable price for an ATX motherboard
We needed such a large case because we own an ASUS Z10PE-D8 WS motherboard. It is quite a large component,
accommodating two processors. The board features high quality components, selected for maximum power efficiency,
i.e. reducing energy losses. Power is supplied through proprietary ProCool connectors. Their design is much more
robust than traditional solutions, so the connection to the motherboard is safe. They also contribute to higher energy
efficiency: lower impedance and better heat dissipation, resulting in lower operating temperatures.
We have placed two intel xeon 2630 v3 processors in the board. In my opinion this is enough power to render the
visualisations we have on our website at a resolution of 4-6k. On top of all this, 64gb of ram is more than enough.
We have plans to buy a much more powerful position but already with Ryzen procvesorem, but that's a story
for a separate article 🙂 Our graphics card is an Nvidia 1080 Ti with proprietary cooling, we used to test 3 such cards
by renducing on them, although after burning two we decided to abandon this technique. We still have in stock an
old 750 Ti card and I must admit that the difference is not too big, and the price…you know 🙂 In my experience, the
prices of graphics cards are very high and the impact on our work is small, of course I do not mean that the card
from the lowest shelf is as efficient as the best, but that you should not be guided only by the most expensive
products when it comes to this component of our workstation.
Finally the displays, in our office we work on two DELL U2520D's at each workstation.
In my opinion these are very good monitors with very good colour reproduction. Of course there are much better
equipment on the market, however if you are looking for something with a good price and quality these are for you.
I have seen many visualisations which were later printed on huge banners and always the quality and colours were
as I expected. In conclusion, remember to choose your computer equipment slowly according to your skills, don't make
the mistake of people who buy everything as good as possible and then can't use it. Scale up your equipment slowly
and learn to use it 100 per cent. As for the desk and the seat, buy them right away 😀 It's not worth waiting and
ruining your health!
---
Recent Posts
Categories
WE ARE OSHIN
A Digital Creative agency building next generation products to inspire the world
ABOUT MY BLOG
Detracto erroribus et mea. Malorum temporibus vix ex. Ius ad iudico labores dissentiunt.
Ea mei nostrum imperdiet deterruisset, mei ludus efficiendi ei. Sea summo mazim ex, ea errem eleifend definitionem vim.
About Us
Oshine has an amazing balance between beautiful design and powerful features. Its hard to imagine we could pack so features into the theme, yet preserve a clean modern design across all demos